Sky Full of Dreams

now available!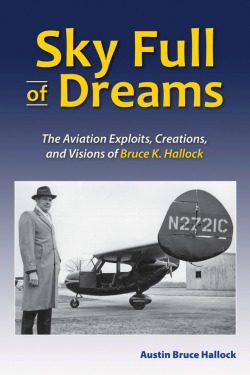 Bruce K. Hallock's story is worthy of this first-class biography. He was dedicated to the art and science of aviation, and this fine work shines a well-deserved light on an accomplished but modest man.
-- Jay Miller, Aviation Historian
---
Full Title:
Sky Full of Dreams: The Aviation Exploits, Creations, and Visions of Bruce K. Hallock (Tailless Aircraft Designer, Builder, and Pilot)
Author:
Austin Bruce Hallock
ISBN:
978-0-9826390-0-9

Sky Full of Dreams
is an aviation biography detailing the exploits, creations, and visions of Bruce K. Hallock. The 230-page book contains over 100 photos and illustrations and is fully indexed.
This is the story of an extraordinary man who held fast to a dream and lived a remarkable life. It also happens to be a pretty darn good airplane book!
From high-adventure flying to high-concept design, Bruce K. Hallock lived and breathed airplanes. He dreamed them, designed them, built them, and flew them like crazy.
His outstanding and varied career embraced military, commercial, and private aviation. He became a recognized expert on tailless aerodynamics, and the planes he conceived and built offered innovative approaches to some of the design challenges of his time.
This engaging and informative book, written by his eldest son who knew him well, provides unique insights into a complex individual and the airplanes he built and flew.
---
More about
Sky Full of Dreams
and Bruce K. Hallock: